Mini chaine LG Wireless Party Link 2350W Bluetooth dual USB
LG XBOOM CJ87
Powerful Output 2350W, thunderous auido experience
It's time to get the party started! Pump up your audio experience with 2350Watts of booming beats. Take your party up to the next level.
Party Thruster, take control of your party
Go up to full throttle with the Party Thruster, by pushing it forward to build up the sound. Set off the party with wild lighting and booming bass.
X-Shiny Speaker, speakers with bling
Speakers built to reflect the surround lights. Be dazzled by the mica-sprayed speakers when light hits them.
Wireless Party Link, double the sound & double..
Double up for even more fun. Enjoy twice the power from twice the speakers with 2 systems wirelessly connected together.
DJ Loop, repeat your beats
Remix like the pro DJs. Repeat any sound in a loop for as long as you want.
Sampler Creator, personalize every party
Capture the sounds that your party attendees will appreciate and work them into any party.
DJ Effects, let your inner DJ out
Add Scratching, Flanger, Phaser, Wah, Delay and prerecorded special effects to your favourite tracks at the intensity you desire.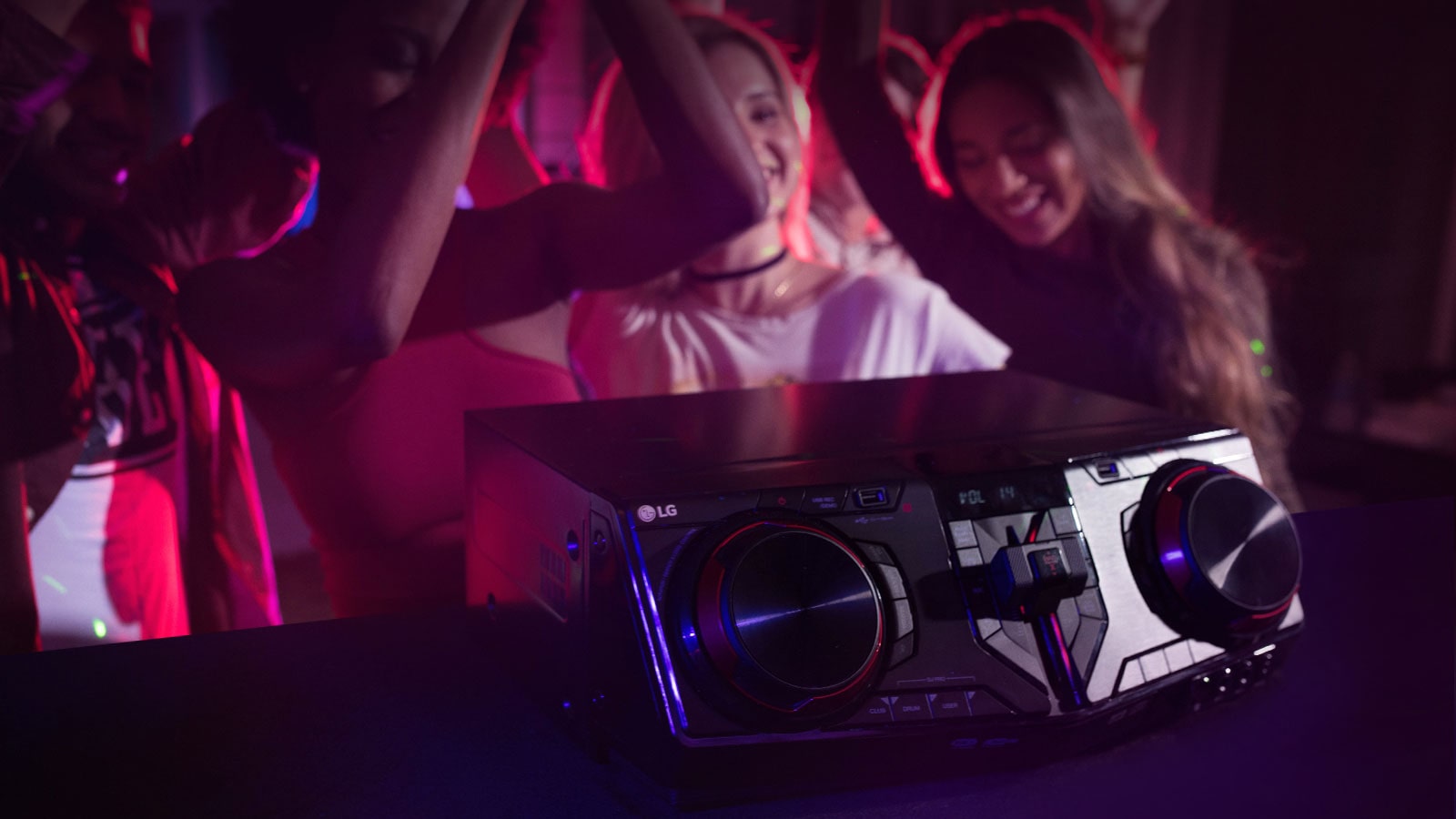 Auto DJ, put your party an automatic
Let the system take over with Auto DJ while you get your groove on.
DJ Sharing, share the party
Relive the party all over again with easy Audio record. Share your party by sending the recording via Bluetooth to any smartphone.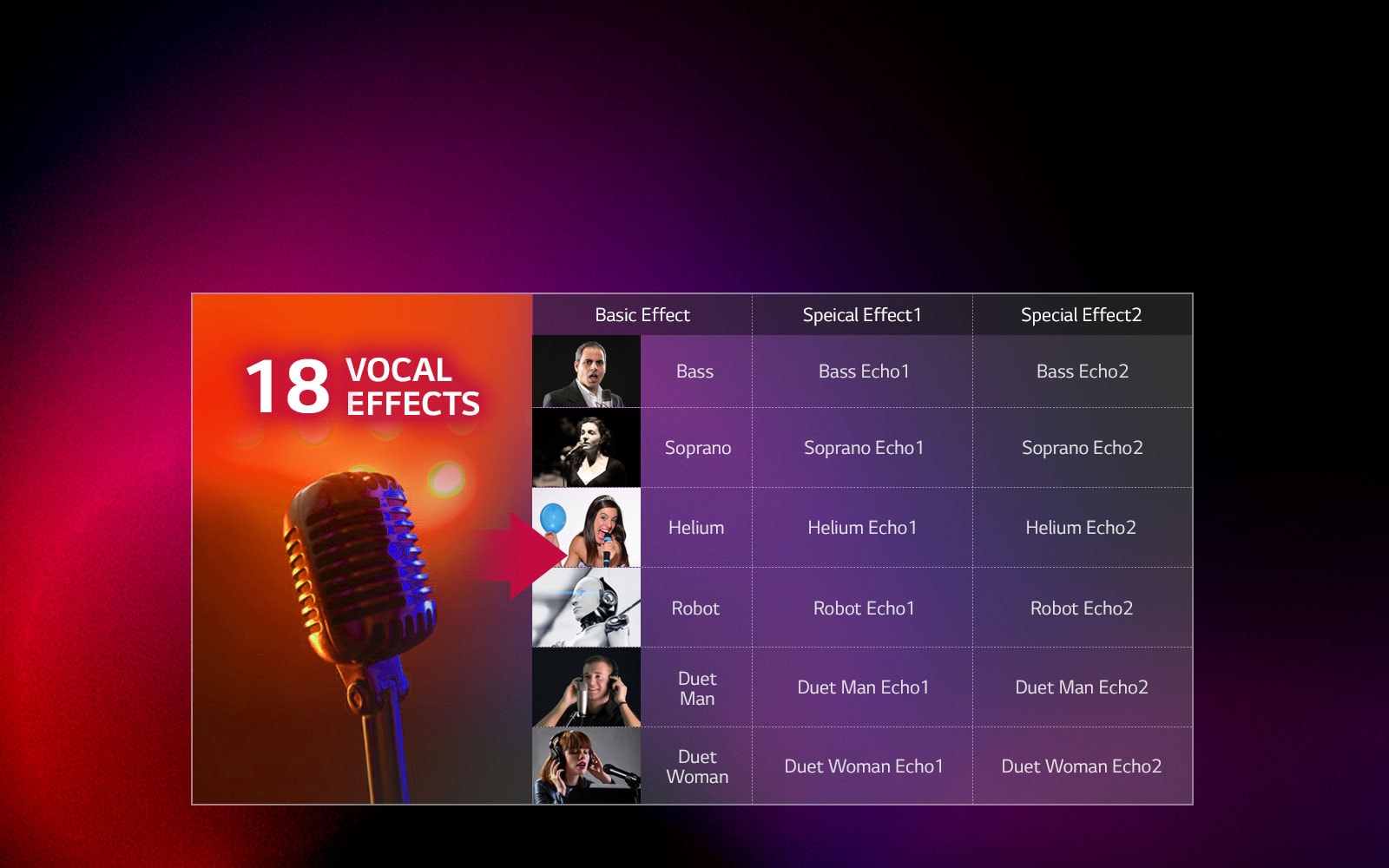 Vocal Effect, various voices bring the fun
Take control of your voice with a voice makeover, even when you sing.
1) Bass 2) Soprano 3) Helium 4) Robot 5) Duet Man 6) Deut Woman
Karaoke Star, be the lead singer
Almost any track can become a Karaoke track by simply removing the vocals at the push of a button. Change the song's key to match your own.
LG Bluetooth App, control with your mobile
Take control of the party remotely from your mobile device. Select the tracks and add effects from the dance floor.
Multi Jukebox, build a playlist with your friends
Up to 3 mobile devices can be connected by Bluetooth to create, manage and add to your playlist. Let your friends join the fun.
Auto Music Play, music that follows you
A smart system that can sense your mobile device. Send audio directly to your system with ease.
Bluetooth Stand-by, wake up your audio on demand
Kick off the party without delay. Even when music is sent via Bluetooth to the sleeping system, the unit wakes up to start the party.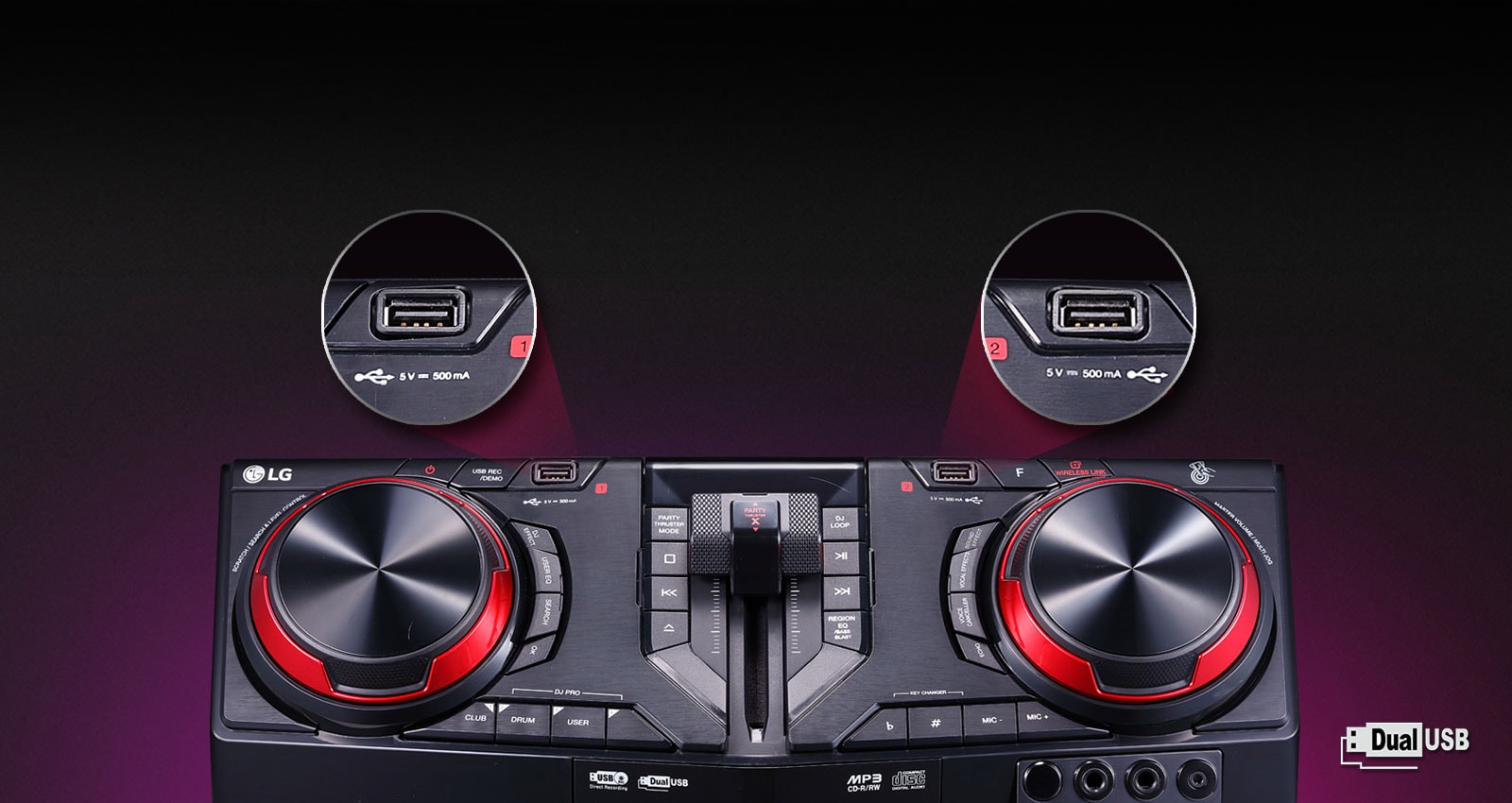 Dual USB, play and record
Dual USB allows for recording capabilities.
QUESTIONS? LET US HELP
Simply choose a support option from the icons below:
Call an LG Support Representative on

Nigeria : 0800 9811 5454 (Toll Free)

Angola : +244 935 979 006

Benin : +229 21 37 74 09

Benin : +229 21 37 74 10

Cameroon : +237 671 385 050

Burkina Faso : +226 25 40 81 52

Cote D'Ivoire : +225 7933 4251

DR Congo : +243 999555999

DR Congo : +243 999977774

Gabon : +241 0172 1790

Gabon : +241 01 747 765

Gambia : +220 4375900

Gambia : +220 7955815

Gambia : +220 439 6669

Ghana : +233 550 780 779

Guinea Conakry : +224 664 199 999

Guinea Conakry : +224 64289354

Liberia : +231 880538538

Liberia : +231 880538538

Mali : +223 2029 0058

Mauritania : +222 45 24 24 24

Niger : +227 20 73 72 11

Niger : +227 97 72 11 88

RP Congo : +242 222 94 45 00

RP Congo : +242 666 255 55

RP Congo : +242 055 18 9728

RP Congo : +242 05 521 92 92

Senegal : +221 77800 3139

Sierra Leone : +232 77 000 200

Sierra Leone : +232 77 000 203

Sierra Leone : +232 77 000 202

Togo : +228 70 42 32 24

Monday to Friday : Open
Saturday – Sunday : Closed
Bank Holidays : Closed